How do machines see the Adidas Telstar?
The Adidas Telstar has become a precision tool for the World Cup, and the Zivid One a precision camera for 3D vision and imaging in Industry 4.0.
It might seem a bit odd at first to compare 3D vision and football (or "soccer" to my American friends), but I think they share many similarities.
Guest post by Øyvind Borgan, Marketing Director at Zivid Labs.
To start with, both are buzzing with excitement these days. 3D vision is at the forefront of human- and robot-collaboration, a hot topic in smart factories. And, for football fans, it's hard to miss the ongoing, month-long journey of the world's biggest football competition.
In 2010 the Adidas Jabulani became controversial as it was not the right tool for football - it was criticized as unpredictable by the players. This years' Adidas Telstar ball has generated much less fuzz. It has become a precision instrument for the goal-getters as they are overcoming opponents in each game.

Click on the image to see point cloud and read the full story on our blog.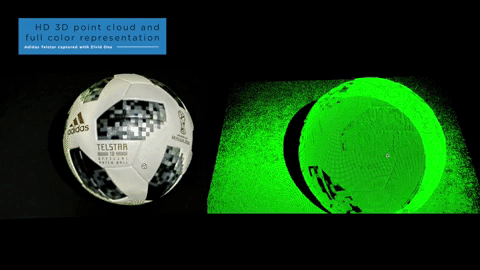 #adidas #telstar #zivid #robotvision